My Top 30 CDs
#21 - 25
21. Art Tatum - The Tatum Group Masterpieces, Vol. 3: w/Lionel Hampton, Buddy Rich (Pablo). Tatum was a man amongst boys on the piano. He shows why here. While he was known mostly for his solo recordings, this CD features 2 musicians who are up to the task: Buddy Rich on drums and Lionel Hampton on the vibes. If you like piano, it's hard to go wrong with Tatum. (1955).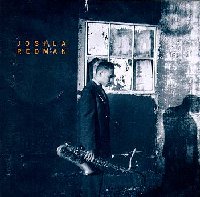 22. Joshua Redman - Joshua Redman (Warner Bros.) I have 3 Redman CDs and enjoy them all. I have heard great things about the 2 I do not have. Redman was 23 when he recorded this. He performs some classics, such as Salt Peanuts and Trinkle, Tinkle and Body and Soul. Good mix of fast and slow songs, as well as originals and classics. Wish and Blues on Sunday are 2 of my favorites, and both are originals. (1992)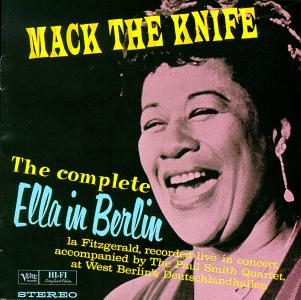 23. Ella Fitzgerald - Mack the Knife/Live in Berlin (Verve). This live recording features Ella doing some fine Scat singing on How high the moon (actually she forgets the lyrics, and was improvising!). Her cover of Misty is wonderful. After listening to this, I understood why she is called "the First Lady of Song." This CD features a nice variety of fast songs, scat songs, and ballads. Ella is backed by a quartet. I have been pretty disappointed with most of the CDs I have bought of hers, but part of it is that I hold this one up as the standard, and the others haven't been as good. (No recording date listed)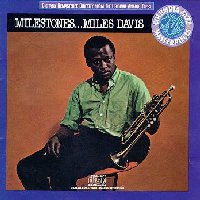 24. Miles Davis - Milestones (Columbia). This 6 song CD features Miles' Sextet: Philly Jo Jones (Drums), Paul Chambers (Bass), Red Garland (Piano), John Coltrane (Tenor Sax), and Julian "Cannonball" Adderly (Alto Sax). The solos are fabulous! This CD features one of my favorite Miles' songs, "Dr. Jekyll." Miles plays a very fast solo on it, followed by a game of follow the leader between Adderly and Coltrane. (1958).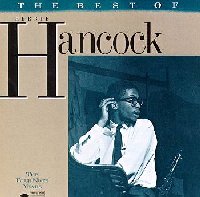 25. Herbie Hancock - The Best of Herbie Hancock, the Blue Note Years (Blue Note). I was hesitant to buy this, because I always associated Hancock with "Rock It" and the whole 80s electric sound he was doing...D'OH! This CD features classic Hancock compositions, such as Watermelon Man and Cantaloupe Island and features musicians such as Dexter Gordon (Tenor Sax), Freddie Hubbard (Trumpet), Ron Carter (Bass), and Tony Williams (Drums). Very fun music. (1962-68).