Audio Clips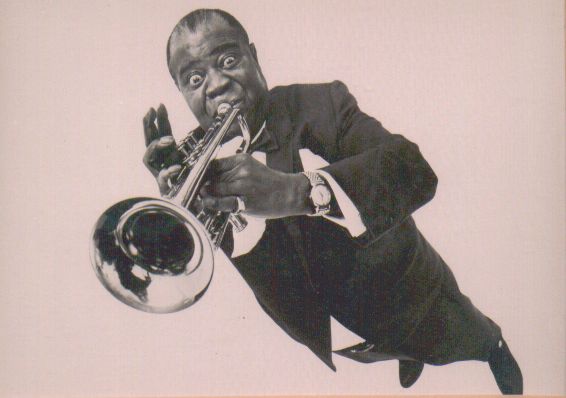 Louis Armstrong
These MP3s are of famous solos. These are not entire songs, but rather solos. The solo is the most important part of jazz and it demonstrates each artist's musical voice, showing you what makes each artist unique.
This is not meant to be some bootleg operation. The idea here is simple: when I hear a solo that really moves me, I learn more about that artist through research and listening, quite often by purchasing CDs. This section is to promote jazz as a whole in the same manner. This may be the only chance some people will ever get to hear these artists, and it may open them up to a wonderful new world. Maybe it will bring in new fans to jazz and maybe it will open up more record sales.
Click on the link to hear the clip. Below the description is a link to a biography of the artist. Note, because of the difficulties with free servers hosting MP3 files, these have been zipped up. You will need to download them, and then unzip them.
---
Illinois Jacquet - "Flying Home." (1.25 MB). In 1942, while a member of Lionel Hampton's big band, Jacquet blew himself into history. The story was told when Jacquet was the featured musician on Jazz Profiles with Nancy Wilson on National Public Radio. Jacquet was a young (about 22 years old) up-and-coming saxophone player and though he wasn't the leader of the saxophone section, Hampton still selected Jacquet to play a solo on a song that was destined to become a big band (and Hampton) classic Flying Home. Jacquet was nervous and asked the section leader for advice. The leader told Jacquet to "play his style." Jacquet said that he wasn't sure what his style was at that time. What he did, was went up to the microphone and played one of the most legendary solos in jazz history. Jacquet became an overnight star with the solo and the solo actually BECAME part of the song. Saxophone players had it written into their contracts that when the song was played, they had to play it like Jacquet. One saxophone player interviewed on the NPR program said during his life, he only memorized 2 solos: Coleman Hawkins' legendary Body and Soul solo and Illinois Jacquet's Flying Home solo.
Click here to learn more about Illinois Jacquet.
---
Miles Davis - So What (1.85 MB). In 1959, Miles Davis recorded the top selling jazz record in history, and one the most influential, Kind of Blue. Like he did so often, this record changed the direction of jazz from the bop period to the modal period. This is his solo off of the first song. It is a beautiful, moderate-tempo solo based on the modes rather than the chords. If that means nothing to you, don't worry - just enjoy.
Click here to learn more about Miles Davis.

MORE CLIPS TO COME!