My Top 30 CDs
#1 - 5

These are my personal choices. Some are universal classics, while some are just personal favorites. Some awesome CDs aren't on here, because I haven't heard them (my collection is about 250 large). You can click on any hyperlinked names to read more about the artist. However, I haven't completed them all. You will need to use the "back" button on your web browser to return here, or else you will have to go back through the home page.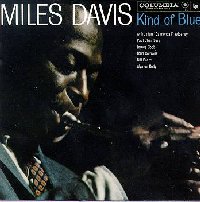 1. Miles Davis - Kind of Blue (Columbia) - Miles wrote out some rough sketches of what he wanted and then turned it over to his musicians: John Coltrane, Cannoball Adderly (both of whom CDs are on this list), Bill Evans, Wynton Kelly, Paul Chambers, and Jimmy Cobb, and let them take it from there. The result has been called a "masterpiece" by just about everybody, and the greatest group improvisation recording, ever. No disagreement here. It is more laid-back in tempo, and the solos are incredible. So What is a jazz standard and John Coltrane's solo on Blue in Green, to me, is one of the most beautiful in all of music. (1959)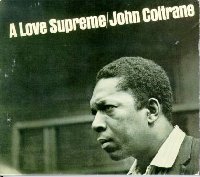 2. John Coltrane - A Love Supreme (Impulse). This is Coltrane's masterpiece from the era in which he played modal jazz. It is his 4 song "thank you gift to God" and is one of the most moving, stirring, and deeply emotional recordings I have ever heard. It has been described as a prayer, a work of devotion, and a meditation on God. Coltrane is recording with his quartet: Elvin Jones (drums), McCoy Tyner (piano), and Jimmy Garrison (bass). They had been together for about 5 years at the time of this recording, so they had tight chemistry. If you are new to jazz, I wouldn't recommend making this your first exposure to Coltrane. Look into some of Coltrane's earlier works, like Blue Train, Soul Trane, or Lush Life. This was the first jazz CD I ever bought, and while I did enjoy it, it took me about a year to fully appreciate it. Some of his earlier works are more "user friendly.". However, don't deny yourself this masterpiece forever. (1964).
3. Charlie Parker - The Dial Sessions, Vol. 1 and 2. (Dial). This is a 2 CD set. I have seen this, along with Parker's Savoy recordings listed as highly recommended. This CD set contains about 35 songs, and NO alternate takes! During this time, the 78 RPM record was the latest technology, so recordings were held to under 3 minutes. Still, it is good stuff, and features players like Dizzy Gillespie and Miles Davis, as well. A lot of Parker's classics are on here, including 2 of my favorites: Parker's renditions of Lover Man (played with a LOT of feeling) and Embraceable You. (1946-47)
4. John Coltrane - Blue Train (Blue Note). Trane has said that this was one of his favorite recordings of his from this period of his music. The musicians on this are incredible: 'Philly' Jo Jones, Paul Chambers, (both played with Trane in Miles Davis' quintet), Kenny Drew, Curtis Fuller (the only trombonist to record with Coltrane), and 19 year old phenom Lee Morgan on Trumpet. This CD features the classic Moment's Notice and the title track features one of my all-time favorite Trane solos. Blue Note released an enhanced version of this CD for around $14-15 that has an alternate take (big deal), extra photos (big deal), and an interactive PC-program (cool!), which makes it worthwhile. The program contains an interview with Fuller, the only living member from this set, live video footage of Coltrane, and other goodies! (1957)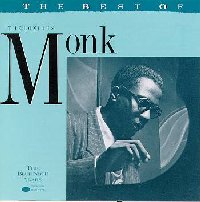 5. Thelonious Monk - The Best of Thelonious Monk, the Blue Note Years (Blue Note). This CD contains many Monk classics, such as Well you Needn't. 'Round Midnight, and Straight, No Chaser. Blue Note was ahead of their time, when they recorded Monk, who wasn't appreciated by the public at large until about 10 years later. Monk had the most unique piano and composition style. He used odd chords and lots of empty spacing. The results are really ingenious. This CD also features many incredible players. (1947-1951)
#1 - 5 #6 - 10 #11 - 15 #16 - 20 #21 - 25 #26 - 30