My Top 30 CDs
#6 -10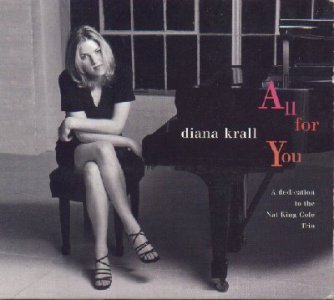 6. Diana Krall - All for You (A dedication to the Nat "King" Cole Trio) (Impulse). Krall is a wonderful pianist and singer. She's so good at both, you really can't call her a "singing pianist" or vise-versa. Her vocal style is unique. She doesn't copy Ella Fitzgerald, Billie Holliday, or Sarah Vaughn. Her voice is lower and sultry, but she puts her heart into every song. Her trio has excellent chemistry. Performing Cole songs was logical, since her group is very reminiscent of Cole's trio (and no, this isn't Unforgettable or Mona Lisa...Before doing these songs, Nat "King" Cole, a great jazz pianist himself, had a jazz trio with the same instrument's as Krall's trio). (1996)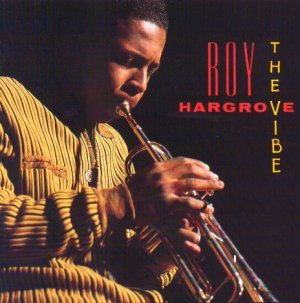 7. Roy Hargrove - The Vibe (Novus). Hargrove is one of the "young lions"...young jazz musicians who carry on the bebop tradition. He's a fantastic young trumpet player who plays fast, slow, and with a lot of feel -- very well rounded. His sax player, Antonio Maurice Hart, compliments him well -- his solos are what actually made me take notice, and then shortly afterward, I was saying "Wow!" to Hargrove's solos as well.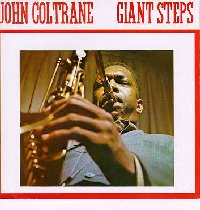 8. John Coltrane - Giant Steps (Atlantic) - How fast can a man play a saxophone? Trane shoves more notes into a measure than humanly possible, at least on the title track and Countdown. You just sit back with your jaw on the ground. As you listen to it more, you can hear a method to the madness and hear that he's working an idea throughout the song, which makes it all the more awesome! Great tunes on this CD. With 3 CDs in the top 10, that oughta speak plenty of how much I like Coltrane. (1959)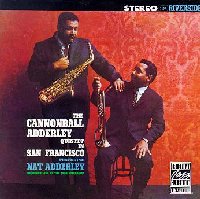 9. The Cannonball Adderly Quintet - Live in San Francisco (Riverside). Adderly is one of my very favorite saxophone players, because of the emotion he speaks through his horn. He played with a lot of feeling and had a knack for the blues. This 6 song CD is fine hard bop. The musicians include Cannonball's brother, Nat, on coronet and ex-Jazz Messenger pianist Bobby Timmons. (1959)

10. Dexter Gordon - Dexter Rides Again (Savoy). This is what I call "Fun Jazz." It's BeBop all the way, but it puts the boogie in your bootie. The title track is wonderful, as is Long Tall Dexter. This CD features many excellent musicians, such as Bud Powell (piano), Max Roach and Art Blakey (drums) and Curley Russell (bass). Just when you need a rest from the excitement, Dexter throws in a beautiful ballad, I can't escape from you. I have enjoyed every CD I have of his...all 7 of them. Savoy has issued a re-mastered copy of this. Get it! Yeah, it's not in a jewel case, and doesn't fit nicely into CD holders, but the technology in the 1940s wasn't so great (pre-stereo), and the re-master does a lot for the sound quality. (1945-47).

#1 - 5 #6 - 10 #11 - 15 #16 - 20 #21 - 25 #26 - 30