Weather Report was one of the earliest and most influential Jazz-Rock groups. Keyboardist Joe Zawinul and saxophone player Wayne Shorter formed the group in 1971. Both had spent in time in Miles Davis' group - Shorter played with the legendary 1960s quintet (along with Herbie Hancock, Ron Carter, and Tony Williams). Zawinul joined later, during the early days when Davis pioneered the fusion movement. Zawinul was one of the early masters of the synthesizer. Before joining Davis' group, he played electric piano in the Cannonball Adderly quintet. The sound so impressed Davis, that he hired Zawinul and made future keyboard players play the instrument.
In addition to forming the group and composing many of their songs, they were the two constant members in the group, as many musicians passed through. One of the most famous to pass through was bassists Jaco Pastorius. Pastorius was a pioneer on the electric bass. He took it from a rhythm instrument into an important solo instrument by playing with speed and grace, often dazzling audiences with his virtuosity during unaccompanied solos . He created a slippery effect by using a fretless bass. He has influenced countless bass players to this day. He joined Weather Report in 1976 and left in 1982, forming his own group Word of Mouth. Aside from a tremendous ego, he was alcoholic and a heroine addict. He died tragically in 1987 after he instigated a fight at a bar and suffered head injuries.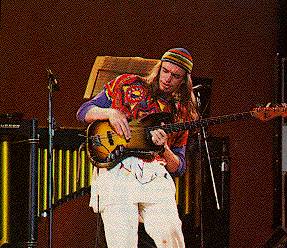 Jaco Pastorius
Unlike many groups, Weather Report focused on a group sound, creating complex arrangements in addition to their improvised solos, which made it more difficult to distinguish between the soloist and accompanists, because they were virtuosos on their instruments, providing awe-inspiring solos, as well as accompaniment work.
The group originally included Miroslav Vitous, percussionist Airto Moreira and drummer Alphonze Mauzon. Their self-titled debut album, as well as their follow-up I sing the Body Electric, are jazz-rock classics. However, their greatest line-up was in the mid 70s when Pastorious and drummer Peter Erskine joined. This line-up put out the fine records Black Market, Mr. Gone, and Heavy Weather, which was their biggest selling album and included their most famous hit Birdland). After Erskine and Pastorious left, they were replaced by Omar Hakim and Victor Bailey, respectively. While they were fine musicians, they lacked the flamboyance and imagination as their predecessors, Their records afterward, were polished, yet detached and lacked the fire of the early works. Shorter and Zawinul disbanded the group in 1987. In 1996, rumors circulated that the Shorter and Zawinul would reunite the group, but it never happened.
While many fusion groups only lasted a few years, Weather Report lasted over fifteen.
---
To learn more about Weather Report, check out these sites:
Jeff's Weather Report Page - a Fan site