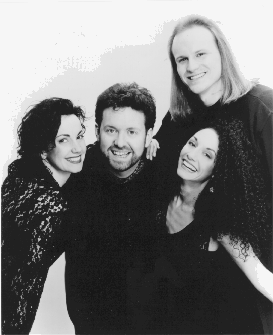 (L to R): the goddess Lauren Kinhan, Peter Eldridge, Kim Nazarian, Darmon Meader (Note: Lauren doesn't call herself "the goddess"...I'm just stating the obvious!)
New York Voices formed in 1987 with the original group consisting of Darmon Meader, Kim Nazarian, Peter Eldridge, Sara Krieger, and Caprice Fox. They performed in New York clubs and signed a record contract in 1989 and released their first (self-titled) record that year. In 1991, they released their second record "Hearts of Fire" and in 1992, Krieger left the group and was replaced by Lauren Kinhan. In 1994, Krieger also left and the group decided to become a quartet.
The group was unsigned to a record deal for a few years, but continued touring and recording with other groups, including the Count Basie Orchestra, Joshua Redman, Ray Brown, and George Benson. In 1997, they signed another record deal and recorded a collection of Paul Simon songs. Individually, the members write and arrange songs, perform, and teach workshops.
Their music, which is influenced by Lambert, Hendricks, and Ross, features tight harmonies, daredevil scat singing, and creative arranging. Darmon Meader is also a very good saxophone player and displays his skills on every album (though not necessarily on every song).
---
To learn more about New York Voices, check out these sites:
New York Voices - the official site
New York Voices - A fan's tribute